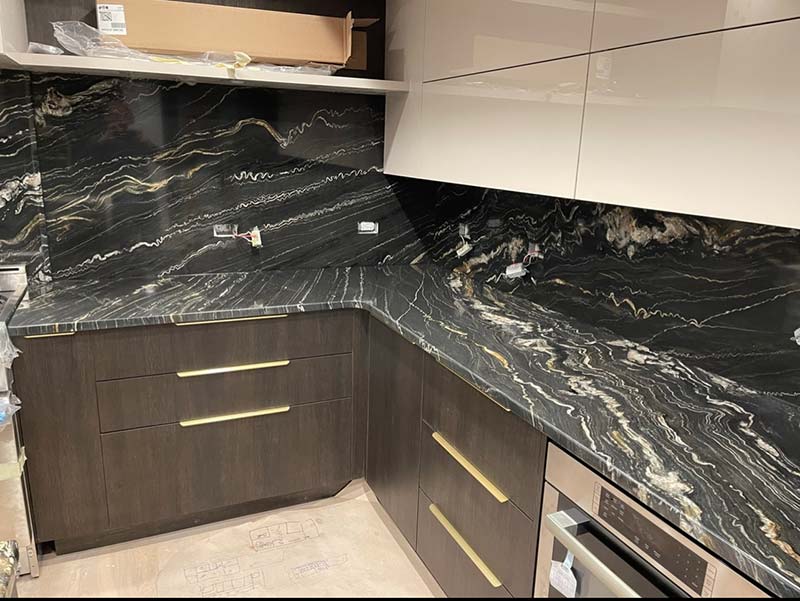 Marble and Granite Countertops 
Your entire happiness is our top priority. To make sure you're happy with every aspect and design of your stone project, our friendly and knowledgeable staff is here to help.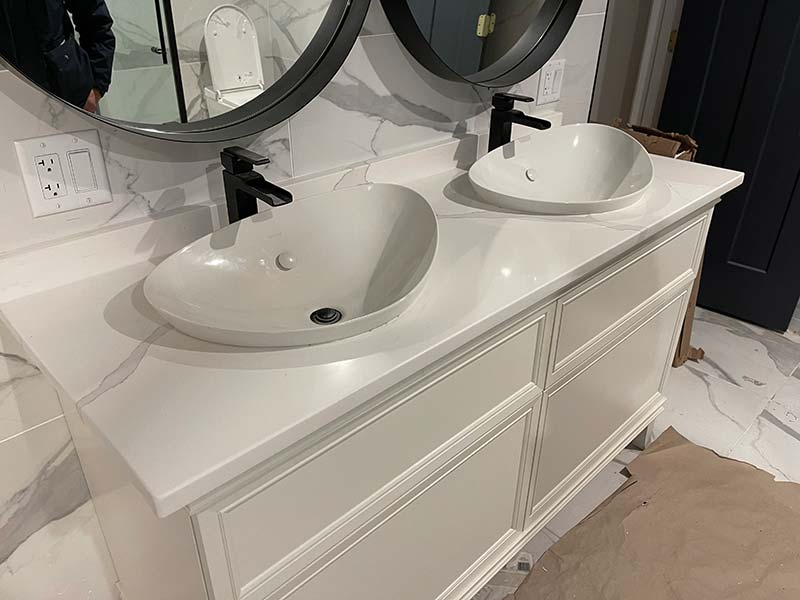 Custom Vanity Countertops
To give you the best assortment of unique stone materials, hues, and prices that will suit all budgets and preferences. All our Quartz gets imported from Turkey and all are top quality.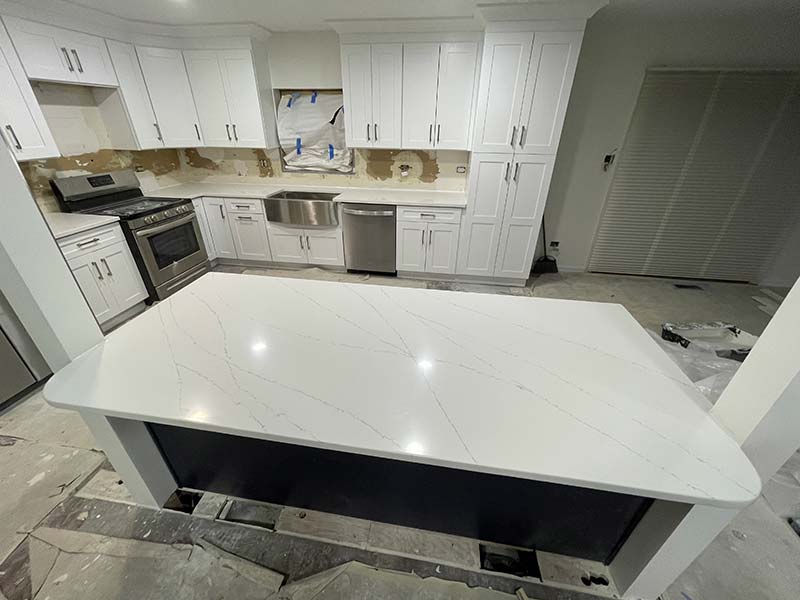 Quartz Countertops 
Fast, Simple, and Easy. You don't need an appointment; simply drop by our showroom for a free estimate.
Top Luxury Countertops countertops have been made by Jory Marble Granite Quartz Inc. for decades. For kitchens, baths, and bars, we create countertops and vanities. Also, we can make workstations, tables, accent pieces, fireplace surrounds, and outdoor living spaces. Granite, Quartz Countertops, marble, and other speciality stones are among the surfaces we carefully fabricate and install. Our entire inventory of quartz is imported from Turkey and is all grade A. Seven different marble tones and 35 different shades of quartz are available. Our quartz is of outstanding quality and has a long lifespan. Any of our quartz can be utilised for tables, backsplashes, bathrooms, kitchen counters, etc.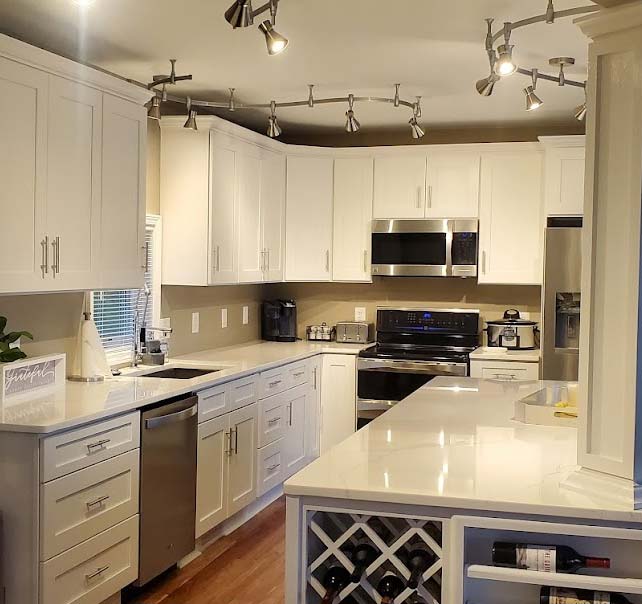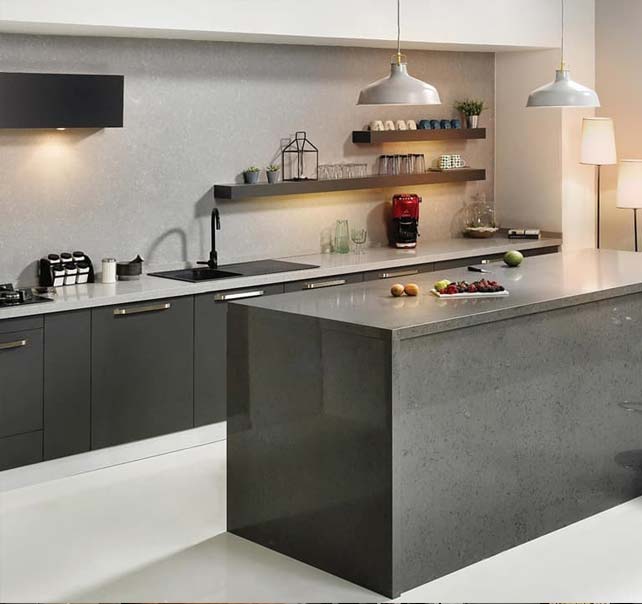 Highly experienced craftsmanship
Best chicago kitchen countertops 
Let's start working. Let our staff do the rest. All of our installations are completed quickly (3-14 days), and we guarantee complete client satisfaction.
providing top selections of the quartz countertops for chicago and suburbs
From Measurements to Fabrication
Water Fountain and Planters
Our extensive collection of fountains, statues and ceramics includes a wide variety of materials, colors and styles. Fountains of all sizes are installed and in operation. There are many beautiful garden statues to add a special theme or focal point to your garden. It features fountains and statues made of Jory Marble granite and quartz.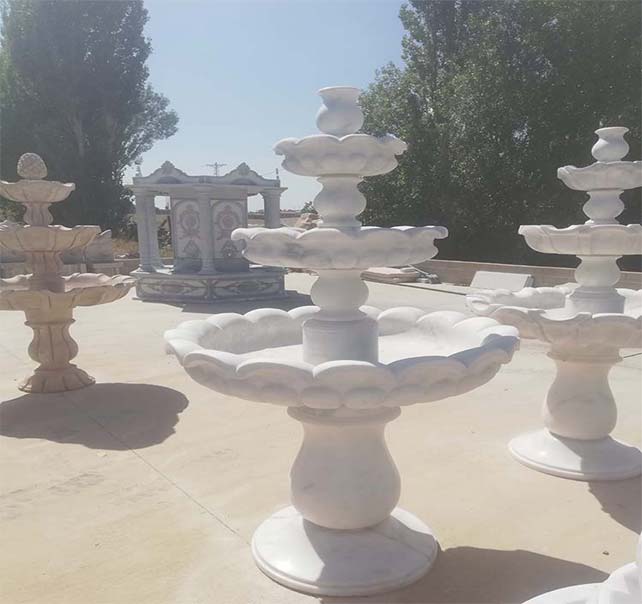 Our Portfolio
Marble Granite Quartz – Residential and Commercial – All kind of Countertops
Quartz countertops at Jory Marbles, Chicago IL
If you are looking for top quality Quartz countertops in Chicago IL, your search ends at Jory Marbles, Chicago, IL. With excellent quartz countertops from Jory Marbles, Chicago IL, you may improve the appearance and functionality of your Chicago home. We specialize in offering clients in the Chicagoland area premium quartz surfaces that redefine beauty and strength.
Quartz countertops have been extremely popular among Chicago residents in recent years and for good reason. We have the ideal quartz countertop to match your taste, whether you want a traditional, modern, or contemporary appearance. Discover our wide range of quartz surfaces, which are offered in a huge number of hues, patterns, and finishes.
Quartz countertops are an ideal choice for kitchens as well as for Vanity. We provide premium quartz countertops at reasonable costs, enabling Chicago residents to afford class and toughness. You will get great value for your money thanks to our honest pricing.
To learn more about the varieties of Quartz Countertops, and their detailed pricing, please contact Jory Marbles, Chicago, IL.
Marble countertops
Want to have an elegant Marble Countertop in your kitchen? Or give a stylish look to your bathroom, we at Jory Marbles, offer an exclusive range of marble countertops just for you. Upgrade your home with our Marble Countertop Service and experience the unmatched charm of natural stone. Marble always adds a touch of class to the look of your room. 
Any space with marble countertops immediately feels opulent and elegant. Marble is inherently nonporous, bacterial-resistant, stain-resistant, and more resilient than vinyl or wood. It may be treated to avoid stains and does not need to be used with a cutting board. If utilized as a dining surface, marble always has that just-cleaned appearance and is simple to spruce up. While marble is known for its beauty, it's also remarkably durable when properly sealed and maintained.
Rest assured that your marble countertops will be installed by our skilled professionals, ensuring a flawless finish. Please contact us today to schedule a free consultation with our expert design and production professionals, who recommend the best marble to you after knowing your tastes.
Calacatta quartz countertops at Jory Marbles, Chicago IL.
Get one of the best quality calacatta quartz countertops in Chicago IL. Are you planning to design a modern yet durable kitchen? Are you done with your existing furniture and planning a renovation? Look no further than Jory Marbles, as we offer you the most suited countertop solutions. 
Calacatta quartz countertops are a popular option for anyone looking to outfit their kitchen with the ideal balance of luxury and functionality. These countertops offer a long-lasting and aesthetically attractive alternative because of their exquisite look, toughness, low maintenance requirements, and ability to handle temperatures. Calacatta quartz countertops will give your kitchen timeless elegance and value, whether you're restoring a historic Chicago house or furnishing a contemporary urban retreat.
Our goal at Jory Marbles is to make your countertop fantasies a reality. Experience the collaboration of genuine workmanship and elegance right in the center of Chicago. Please give us a call to learn more about our products.
Granite countertops
At Jory Marbles, Granite countertops are one of the most popular countertop materials owing to their durability and high quality. 
Granite countertops have been commended for their amazing rigidity and timeless beauty. Our granite countertops are a long-lasting investment for your home since they are made to endure the rigors of regular use. Granite countertops are ideal for busy homes since it is incredibly durable and simple to maintain.
Granite is by far the most resilient out of all the materials used to make countertops,  On the granite surface, most common household knives may be used to chop meat and vegetables, and with proper maintenance, this surface is almost stain-proof. Despite being the only alternative for well-known chefs, bakers, pasta makers, and confectionery makers, the cost is not at all exorbitant. When the actual thing is available at a reasonable price, why select less?
Granite countertops' stunning appearance and durability will enhance the look of your house. Please give us a call to arrange a consultation. Our staff at Jory Marbles is committed to offering our clients high-quality granite countertops, and we look eagerly to incorporating the charm of this stone into your living areas.
Countertop installation service from Jory Marbles, Chicago IL
Revamp your kitchen in style, with excellent countertop installation services from Jory Marbles, Chicago, IL. We're here to help you make your kitchen or bathroom a beautiful and practical environment that fits your requirements and preferences with our countertop installation service in Chicago.
Our team of expert technicians has years of countertop installation experience. We have experience working on a broad range of projects in Chicago, from tiny condominiums to roomy suburban homes, and we apply this knowledge to every project we take up.
At Jory Marbles, we offer installation services for kitchen countertops, bathroom countertops, and commercial countertops as well. We provide a wide range of countertop materials, including marble, quartz, granite, and more.  We take pleasure in our work and go beyond the call of duty to install every countertop precisely and meticulously. We think everyone should have access to premium countertop installation in Chicago. Because of this, we provide reasonable costs without sacrificing the high standard of our services.
If you are ready to add new life to your countertops, please contact us now, and we are ready to get the best countertop installation services at your door.
Kitchen Countertops
In search of an outstanding Kitchen countertop that brings the heart of your house to a new life? If you are dreaming of a kitchen makeover? Look nowhere else than Jory Marbles, Chicago IL. We offer one of the best kitchen design and installation services in the area. Discover a wide range of premium countertop materials, such as granite, quartz, marble, and more at Jory Marbles. Your home may have special design and installation issues, but we are aware of these difficulties and have solutions. 
Our kitchen countertops services include a wide array of services. You can count on us to expertly install the countertop material of your choice, creating a smooth fit that improves the aesthetics of your kitchen. You can also replace your outdated countertops with one of our premium alternatives to give your kitchen a brand-new look. We also offer Custom Edging choices to give your countertops a distinctive touch while improving both appearance and safety. To maintain the perfect condition of your countertops, we provide maintenance services. Additionally, our crew is capable of doing any required repairs quickly.
Our expert team is here to turn your vision into reality with our top-notch countertop solutions. Please contact us to find out more about our kitchen countertop service.
Vanity countertops 
Our extensive variety of Vanity Countertops at Jory Marbles Chicago, IL is definitely what you are looking for if you want to have a stylish and modern Vanity. Check out our exclusive collection of countertops for your vanity. 
One of the design accents of your bathroom is the vanity countertop. It enhances the overall appearance of the room in addition to fulfilling an essential purpose. You can make your bathroom an exotic place with our premium vanity countertops.
At Jory Marbles, Chicago IL, we offer a wide range of materials for your vanity countertops, including granite, marble, quartz, and more. You can choose the perfect countertop to match your style and budget. We custom fabricate and install countertops to ensure a perfect fit and finish every time. We understand the unique needs and trends in the Chicago area and can offer personalized solutions.
From measurement and manufacture to smooth installation, we take care of every stage of the installation process. Our design professionals will collaborate with you to develop a specialized solution that enhances the visual appeal of your bathroom. We continue beyond installation. We also offer suggestions and guidance on how to preserve the attractiveness and durability of your vanity countertop.
Our expert team eagerly awaits you at Jory Marbles, to help you transform your vanity. Please contact us!
Cut and fabrications
Are you willing to enhance your stone project? For all your cut and fabrication needs, get in touch with Jory Marbles right away. Our staff is prepared to talk about your project, give knowledgeable counsel, and provide competitive quotations. The ageless beauty of stone, brought to life by Jory Marbles, will transform your home. With decades of combined experience in the area, we specialize in precise fabrication and cutting, offering outstanding solutions to turn your concepts into breathtaking reality. 
At Jory Marbles, we can handle even the most difficult and complicated jobs with ease, thanks to our sophisticated equipment, as we consistently provide immaculate results.
 From elaborate stone sculptures to kitchen countertops and bathroom vanities, our team will execute your idea with outstanding skills. We are aware that each job is distinct, and we take pride in providing precise cuts that match your particular requirements.
For all your cut and fabrication needs, get in touch with Jory Marbles right away. Our staff is happy to consult with you about your project, give expert suggestions, and provide competitive prices.
Jory Marble Granite Quartz Blog

"Outstanding Work"
I've never done this for anyone but I just had to speak on how great of a job he has done, (PERFECTION) is the best word for the work that was performed, friendly/courteous. He does the job like he's doing it for himself, all I can say is "THANK YOU" Jury Marble Company and Motee once again GREAT JOB, I would recommend your company to anyone,